Born to be WILD
Stylish and elegant Silver WILD pram is a new 3in1 travel system from the Venicci. Fancy, luxurious, animal pattern fabric is the perfect choice for people who value freedom and like to stand out in a crowd. The functional frame allows you to attach a carry cot, a seat unit and also a Venicci car seat.
A smooth construction stands out from the distance. The secret of Venicci Silver is the use of chrome-plated elements. It's the modernity that shines.
Animal pattern fabric - Unique material with animal motifs is what makes this pram so special.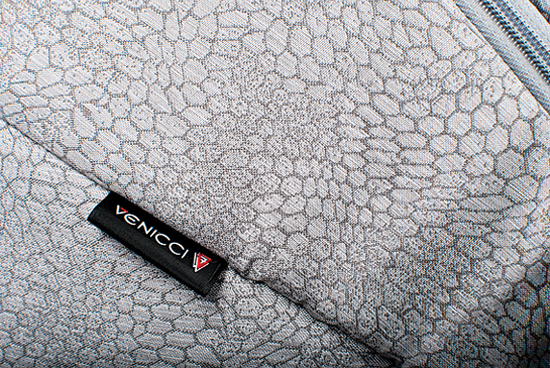 Noble shine - In this model, silver is the base. Noble shine of a frame is what makes this pram so special.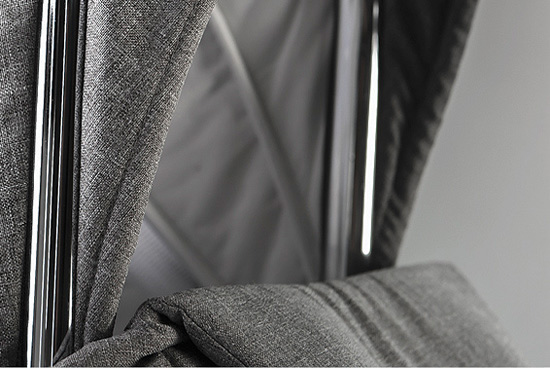 Silver wheels - Silver pram wheels are finished just like the frame. They give a pram the impressive look.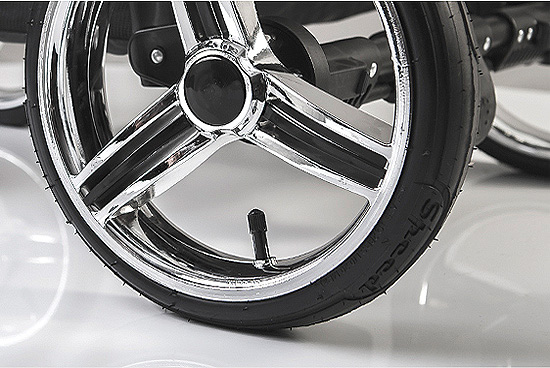 The stylish Silver Special Edition Venicci 3 in 1 travel system includes a chassis, reversible facing reclining pushchair seat unit, large carrycot, car seat and accessories, offering you and your baby, style, functionality and luxurious comfort as your little one grows.
Suitable from birth, the large multi-function carrycot lies completely flat to ensure optimal positioning for your newborn and gives you the option of adjusting the backrest (ideal if your baby suffers from colic. It also features UPF 50+ fabric, weather-resistant fabric, adjustable hood, detachable apron, optimised ventilation system, unique rocking mode, wind protection fabric guard, and includes a plush mattress.
When baby reaches 6 months they can progress to the pushchair seat unit, a multi-functional, dual-facing seat unit that enables you to bond with your child or allow them to face the world. The pushchair is suitable from 6 months to 3 years and features a comfortable, roomy seat unit, safety harness and adjustable leg rest.
VENICCI – stylish and functional 3 in 1 Pram. It's chassis is made from lightweight aluminium, making it easier for you to manoeuvre, plus with an adjustable suspension you can ensure your baby has a smooth ride on any type of ground. Baby is also able to face towards you or out towards the world, allowing you to have both the benefit of interacting with you little one or having them view their surroundings.
Package Includes:
Carrycot,

pushchair seat,

changing bag,

apron,

raincover,

insect net,

cup holder
Functionality Key Points:
Direction Memory System - The DMS prevents the front wheels from spinning when the front of the frame is lifted up on to another surface.

Waterproof - Fabrics with a special water repellent impregnation.

SAS - Shock Absorption System - The shock absorption is in place to prevent the frame from shaking when pushed along rough terrain.

UV50+ Fabric - Fabrics with UV50+ technology allowing it to absorb more than 50% of ultraviolet radiation.

Easy Click Mode - The click mode on the frame makes swapping between the different settings much easier.

Swivel Front Wheels - Lockable front swivel wheels

Aluminium frame - Aluminium alloy significantly reduces the total weight and makes the stroller unusually light weight and easy to push.

Leatherette - An innovative leatherette boasts of high anti-allergenic specs, doesn't overheat in the sun and doesn't go hard in the cold.
Pram Mode -
Features & Benefits:
Carrycot is suitable from birth to 6 months

Baby can lie-flat in this spacious carrycot - Newborn babies should ideally lie completely flat, as recommended by health officials.

Includes mattress

3 position adjustable backrest - ideal for babies who have colic

Strong, durable, UPF 50+ fabric

Weather-resistant fabric

Adjustable hood with ventilation system - helps to keep baby cool in the summer

Luxury cotton lining

Leather finish handle

Detachable apron included

Easy to click on and off mode
Pushchair Mode -
Features & Benefits:
Suitable from 6 months - 3 years

Multifunction seat which faces both ways – face parent for interaction or face the world

Multi-position reclining backrest

5-point fixed safety harness

Adjustable, extendable hood

Adjustable leg rest, handle height and harness height

Ventilation System in the back of the hood keep baby cool

Comfortable seat for baby with extra liner

CLICK-MODE Easy release from the chassis

Comes complete with Hood and seat unit apron

Leather finish gated bumper bar
Car Seat Travel System Mode -
Features & Benefits:
From birth to 13kg

Lightweight and easy to carry

Comfortable seat adapts as your child grows

Foldable handle

Comfortable padded liner

Foam wedge head support

Padded adjustable harness

Travel system compatible

Can be fitted on its own, with the cars seat belts, or with the optional extra Venicci ISOFIX Base.

Only compatible with the Venicci Isofix base

Weighs only 3.9kgs

CLICK-MODE Easy release from the chassis

Safety Standard Approved - E20 44r-04 2064
Specifications:
Pram Mode (unfolded) L95 x H110 x W61 (cm)

Chassis folded (with wheels) L82 x H31 x W61 (cm)

Chassis folded (no wheels) L81 x H26 x W50 (cm)

Carry Cot Internal – L79 x H20 x W36 (cm)

Wheel size – Front 23cm , Back 28cm

Handle adjustment – from 75cm to 110cm

Carry Cot – 4.4kg

Seat Unit - 4.8kg